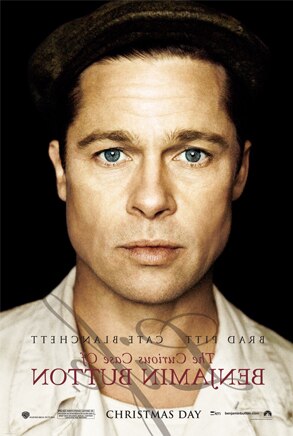 Before I say anything, I have to say, I loved this movie. I didn't realize until we got there that it was going to be 3 hours long, but I thought it was great the entire time. I didn't realize until it was over that it was adapted from the short story by F. Scott Fitzgerald. I'll have to read it.
If you've seen the previews, then I'm not giving anything away (especially since this is in theaters right now). The film is a love story, which by itself is pretty darn good. The twist, is that Benjamin Button ages backwards, or grows younger with time. That complicates things. This movie had so many thought provoking moments. The whole time I was thinking about how lucky I am to be able to grow old with the person I love. I guess that shows how into the movie I was.
The story, the emotion, the hint of magic, it was all spectacular to me, and I don't think there could have been better actors for the main roles–Brad Pitt and Cate Blanchett. Wow.
That being said, I wouldn't recommend this for kids. Not only because it might be confusing to them, but also the inevitable shirtless Brad Pitt makes some appearances (no complaints). There's sexy scenes in this movie, but in my opinion they were in good taste. There's some creepy parts and a little violence too. Also, even though there was romance, I wouldn't leave your husband at home.