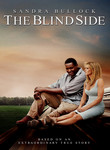 This movie is awesome. It's based on a true story and is really heartwarming (but it didn't make me cry. Yay.)
Since I'm good at forgetting to put the actual plot in my reviews, here you have one copied from nexflix.com:
Oversized African American Michael Oher (Quinton Aaron), the teen from across the tracks and a broken home, has nowhere to sleep at age 16. Taken in by an affluent Memphis couple, Leigh Anne (Sandra Bullock) and Sean (Tim McGraw), Michael embarks on a remarkable rise to play for the NFL.
I love, love, LOVE Sandra Bullock's character in this movie. She is my hero. :) And I especially love what she tells Michael about what would happen if he got a girl pregnant while in college. My kinda woman. :)